"Our Vision: LLLT in every department of every hospital, every doctor's office (clinic) and every home ...Drug free pain relief and better healing through 'best in class' photomedicine products and services."
James Carroll - THOR Photomedicine CEO
INTRODUCTION:
THOR has over 3,000 customers in pioneering clinics and hospitals in more than 70 countries and is the only company with FDA, CE, TGA, Health Canada and NATO clearance. Since 1993 THOR has built an unprecedented and unparalleled Research and Development pedigree with many of the world's leading Universities. Around the world these animal and human healthcare professionals have published over 400 Randomised Controlled Trials using LED and 3b Laser devices and over 4,000 publications altogether.
Low Level Laser Therapy (LLLT)
---
In the last 8 years seven systematic reviews have found in favour of LLLT
---
Prices from
US

$7,800 to

US

$28,000 (£5,100 - £18,150 + VAT)

Contact us today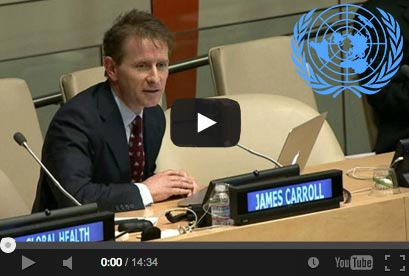 THOR CEO presentation at the United Nations to the Global Health Impact Forum
---
Product information and purchase enquiry
Sorry for the long form.

We are a global company and our computer needs to know who to direct your enquiry to.
* Mandatory field - this automatically directs your enquiry to the correct department
---
Receive the LLLT Monthly Research News
See previous edition. Please add me to the monthly THOR training, research and conference Newsletter.
---
Course Testimonials - Read more
"Course was fantastic, materials were very well put together for a wide variety of clinicians at different levels of care. As a physician I look forward to seeing how this technology can enhance rehabilitation practice to conditions that have few or no currently viable treatments."
Luke Kane, D.O.
NYU Dept. Physical Medicine & Rehabilitation
New York, USA
"The seminar last Sunday in Austin was excellent. I learned tons and am so excited to use my laser to it's fullest capacity. I will be ordering the 810nm probe soon. I would very much like to attend another seminar so I can get more out of the volume of information presented. Thank you again!"
Marty Henderson, DVM
SonoVet, Inc
New Braunfels, TX, USA
"The training course was excellent and delivered the right amount of material. It also served as an excellent foundation for further study on the topic of photobiomodulation. I highly recommend this course to anyone who is thinking of using LLLT in their practice."
Val Finnell, MD, MPH
Sto-Rox Neighborhood Family Health Council, Inc.
McKees Rocks, PA, USA
"Wonderful, amazing course.... Cannot believe all the possibilities with this wonderful tool.... all dental offices will want to make this part of EVERY dental appointment !! James and Mark are very helpful and always willing to answer your questions !!"
Angie Mott
Dental Hygienist
Owasso, OK, USA
"Excellent and interesting course. James was a great presenter, both very knowledgeable and very witty, which made for a delightful day in Marina Del Rey!"
Gregory H Wolf, MD
Primary Care Doctor, Family Practitioner
Orange CA, USA