Contract Manufacturing Opportunities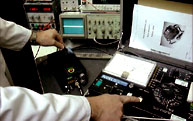 THOR Laser Limited provide a contract design & manufacturing service complete with European CE marking and FDA PMAs and 510(k)s for low level laser laser and LED photobiomodulation systems.
THOR stands for Experience, High Performance, Quality Assurance.
Reputation: THOR are the leaders in laser biostimulation, we have a reputation for innovation, design, userfriendliness, reliability, and customer satisfaction. We make high performance, reliable laser systems. CE marked, an FDA device listing No. and a NATO part No.
Quality Assured: We are audited against, ISO13485, ISO9001
Experience: THOR's development team has been working with laser diodes and LED's since they were first produced in the early 1980's. We are well networked with the leading photobiomodulation / laser biostimulation academics as well as having unrivalled experience in the relevant medical markets
Dependable: We know how to design systems that perform to specification throughout a treatment session & keep on doing so for years. This is because we use components chosen for their reliability and ability to stay within tolerance at all temperatures, even after extended use.
What does THOR do for it's customers? THOR customers include The British Army, Navy and RAF, top sports teams including British and USA Olympic squads, Manchester Utd, Liverpool, Leeds THFC, Everton, the British Lions Rugby Tour. USA FDA and other US government sponsored projects use THOR.
Contact us today to express your interest.