"Our Vision: Photobiomodulation (PBM Therapy) in every department of every hospital, every doctor's office (clinic) and every home ...Drug free pain relief and better healing through 'best in class' photomedicine products and services."
James Carroll - THOR Photomedicine CEO
INTRODUCTION:
THOR has over 3,000 customers in pioneering clinics and hospitals in more than 70 countries and is the only company with FDA, CE, TGA, Health Canada and NATO clearance. Since 1993 THOR has built an unprecedented and unparalleled Research and Development pedigree with many of the world's leading Universities. Around the world these animal and human healthcare professionals have published over 700 Randomised Controlled Trials using LED and 3b Laser devices and over 4,000 publications altogether.
Photobiomodulation (PBM Therapy)
---
The progress of Photobiomodulation Therapy towards mainstream acceptance
---
Prices from
US

$14,585 to

US

$23,670 (£9,750 - £16,148 + VAT)

Contact us today
---
Course Testimonials - Read more
"Comprehensive and clear lecture. A lot of literature about the wide range of applications. Good location and well organized. Gifted speaker."
Beatrijs Deruyter, LTH, MSc, PhDs
Private Dental Practice
Liedekerke, Belgium
"It was such a pleasure and privilege to learn more about photobiomodulation from James, the 'rock star' of PBMT. The course was the right blend of theory and detail. I highly recommend it."
Linda Edwards, RN, MSN
Neurofeedback Practitioner
New Jersey, USA
"Really enjoyed the training day - extremely informative and James Carroll is an excellent and extremely knowledgeable presenter - I will definitely come on this again and bring all the staff as well !!"
John Rose B.Sc (Hons) Optometry & Visual Sciences
John Rose Eyecare
Surrey, UK
"Thor training was tremendous. I was literally saving lives while in training, by texting my staff as how to use the LX2 that arrived the day of my departure (thanks to Mark Granic-one of the best reps I have ever dealt with.)"

Paul Perrier, DVM
Terry Animal Hospital
Rockville, New York, USA
"As Jane O'Connor, Osteopath in Leamington Spa, said: If there's someone who knows everything about laser therapy it's James! I found the course useful to understand the principles of laser therapy. It also gave me a wide perspective of actual and future applications of laser. Of course there will still be a lot to learn as I start using this technology in my patients. James is a lively speaker."
Dr Minnie Freudenthal
Medical Doctor
Lisbon, Portugal

Congressional Briefing Highlight Video

THOR CEO presents at the United Nations

Training with THOR Photomedicine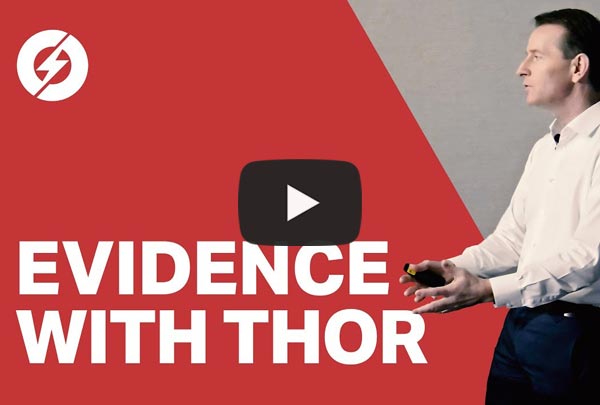 Talking Evidence with THOR Photomedicine
---
Product information and purchase enquiry
Sorry for the long form.

We are a global company and our computer needs to know who to direct your enquiry to.
* Mandatory field - this automatically directs your enquiry to the correct department
---
THOR Photobiomodulation Newsletter
See previous edition. Please add me to the monthly THOR training, research and conference Newsletter.
---