"Our Vision: Photobiomodulation (PBM Therapy) in every department of every hospital, every doctor's office (clinic) and every home ...Drug free pain relief and better healing through 'best in class' photomedicine products and services."
James Carroll - THOR Photomedicine CEO
INTRODUCTION:
THOR has over 5,000 customers in pioneering clinics and hospitals in more than 70 countries and is the only company with FDA, CE, TGA and NATO clearance, and we are also listed on GSA, and eCAT in the United States for government purchases. Since 1993 THOR has built an unprecedented and unparalleled Research and Development pedigree with many of the world's leading Universities. Around the world these animal and human healthcare professionals have published over 700 Randomised Controlled Trials using LED and 3b Laser devices and over 7,000 publications altogether.
Photobiomodulation (PBM Therapy)
---
The progress of Photobiomodulation Therapy towards mainstream acceptance
---
Prices from
US

$15,000 to

US

$40,000 (£11,200–£32,000 + VAT)

Contact us today
---
Course Testimonials - Read more
"The THOR training course that I attended last week was an unforgettable experience in every aspect. I've learned a lot of new and useful things for my daily practice. James was wonderful and managed to maintain our attention throughout the training. I recommend it to all those fascinated by laser applications in PBM. This training is worth it."
Bogdan Crisan DMD, Phd, Msc
Oral Surgeon
Cluj-Napoca, Romania
"The 8 hour course with James was excellent. I have an interest in learning more about PBM and how to help my cardiovascular patients. This course explained the basic mechanisms how PBM work via improving energy production from the mitochondria. Case reports and studies were provided. Questions were answered. Great course and highly recommended to all who want to learn more about PBM."
Michael Twyman
Physician (Cardiologist)
Saint Louis MO, USA
"The training course covered all different aspects of PBM from basics, physics to clinical application and safety which was great! You have covered everything. It was a very well organised course with great presentation, slides and learning materials. Thank you!!!"
Dr. Reza Modarres, MD, FRACGP
Musculoskeletal Doctor
Queensland, Australia
"Extremely good presenter, very knowledgeable and personable, very enjoyable. Breaks were nicely spaced out so never too long of trying to concentrate. Left feeling very enthused about the Photobiomodulation topic."
Dr. Bethany Fitzmaurice
MBChB FRCA
Birmingham, UK
"The course was full of information, well organized with good references. It is easily a training that can be given over two days. So much to discuss although it was well condensed, I enjoyed every bit of it. It was an amazing training overall, can't wait to meet James in person. Thank you."
Lea Rahayel
Dentist
Montreal, Canada

Congressional Briefing Highlight Video

THOR CEO presents at the United Nations

Training with THOR Photomedicine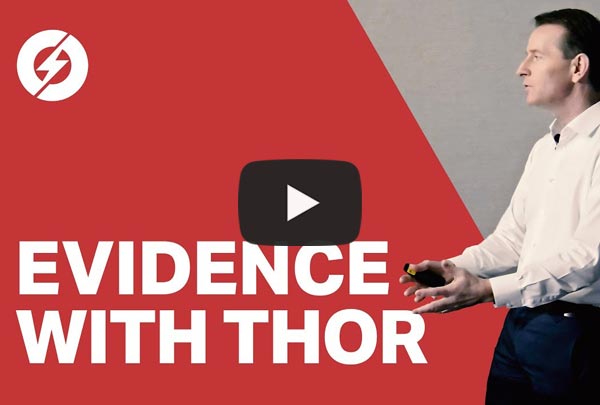 Talking Evidence with THOR Photomedicine
---
Product information and purchase enquiry
Sorry for the long form.

We are a global company and our computer needs to know who to direct your enquiry to.
* Mandatory field - this automatically directs your enquiry to the correct department
---
THOR Photobiomodulation Newsletter
See previous edition. Please add me to the THOR training, research and conference Newsletter.
---